Now that streaming is becoming a trend, the global cable-TV business model is experiencing sharp conflicts.
In U.S Cable giant Charter Communications and Disney  are in a battle over contract fees that has left millions of people without access to the U.S. Open, college football and potentially "Monday Night Football," with the NFL's season starting in just days. South Korea is also expected to face a blackout as negotiations on Carriage fees for home shopping channels and cable TV are difficult.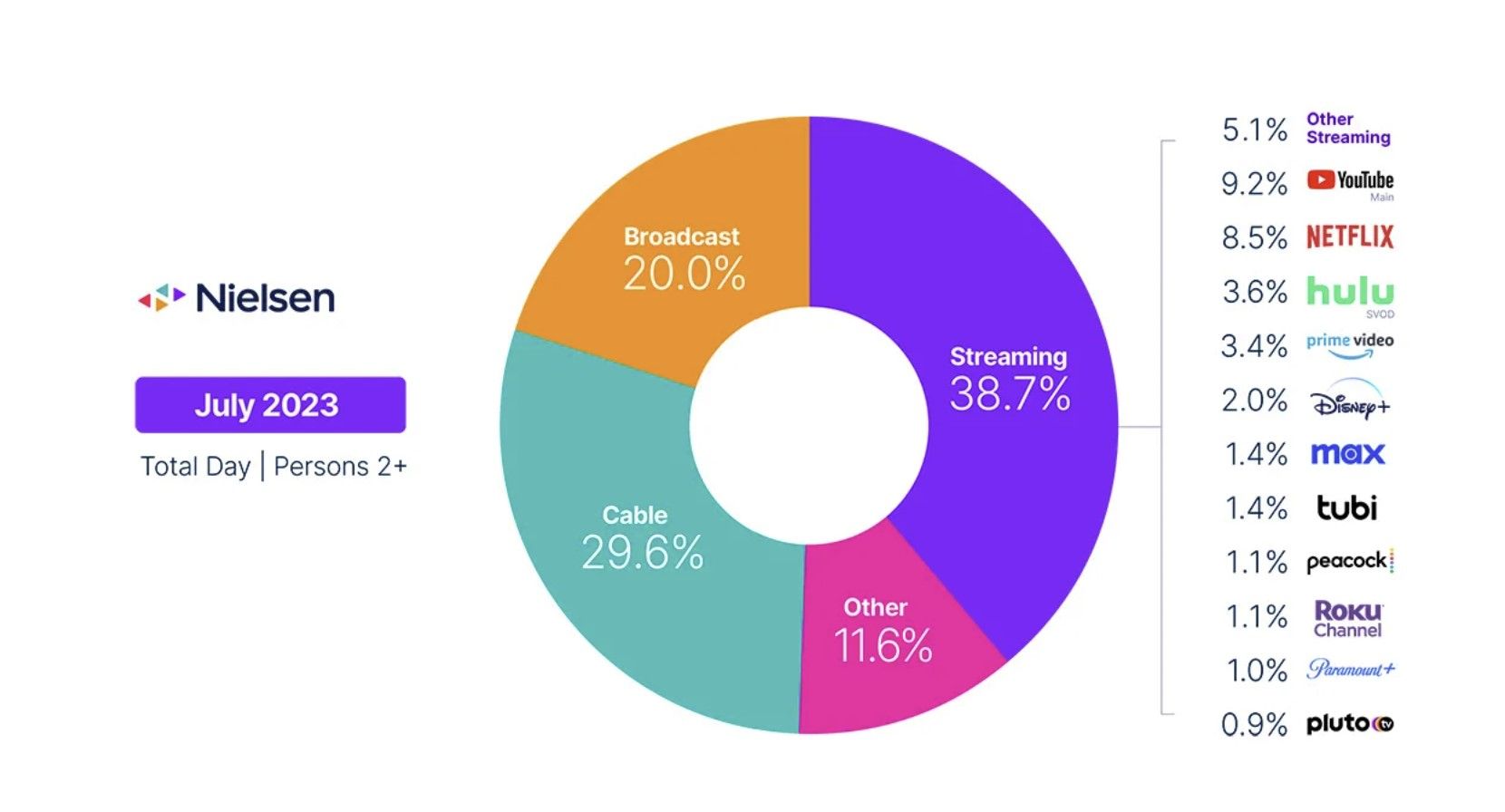 In particular, the center of the dispute is the "sports channel" in the United States and the "home shopping channel" in Korea.
Disney in the U.S. wants to increase the carriage fee for ABC or ESPN, and Korean cable TV operators, on the contrary, want more carriage fees from home shopping.
Charter Communications, a U.S. cable TV operator, and Walt Disney Company, which owns ESPN and FX, are experiencing conflicts over carriage fees.
It is a tension between the camp that needs to be recognized more and the side that it cannot be raised. Finally, Charter declared that the "business model of cable TV" has collapsed.
Charter Communications held a news conference on September 1, 2023 and issued an 11-page statement to investors . Cable TV has become too expensive for consumers and providers, Charter Communications said in a presentation to investors on Friday, adding that cord-cutters and rising fees are contributing to a "vicious video cycle."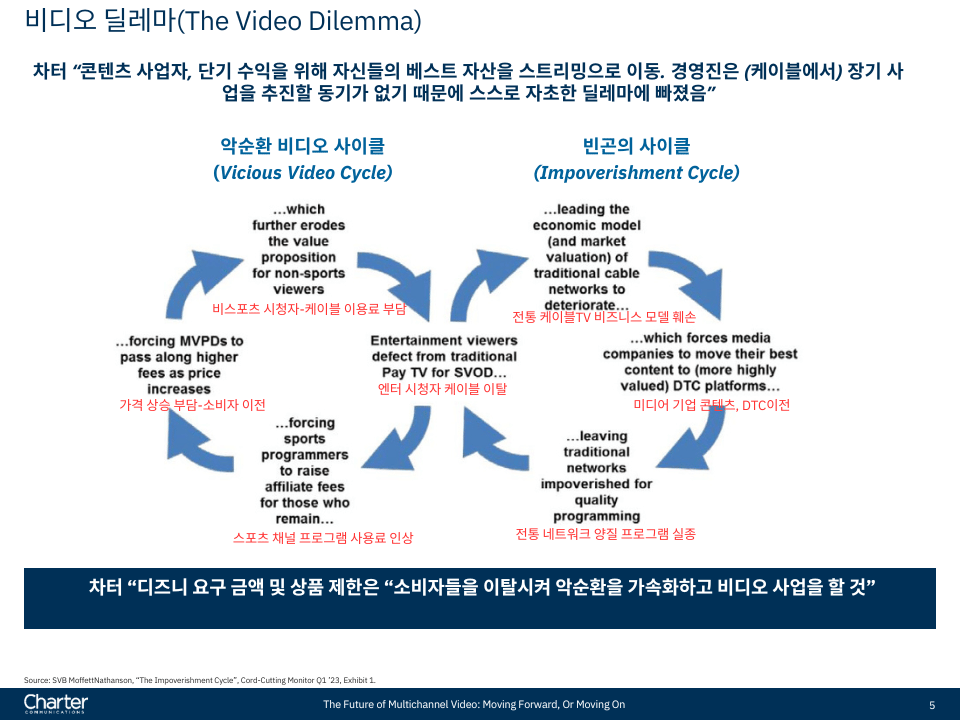 In the event of a breakdown between Disney and Charter, 15 million cable subscribers (Spectrum TV service) will not be able to watch Disney's sports and entertainment channels. As ESPN has TV rights for the U.S. Open or U.S. college football games, if the blackout begins and is prolonged, it is expected that subscribers will cut the cable.
The dispute over carriage fees between cable TV and content providers continues in Korea. It is a dispute between cable TV operators and home shopping channels. According to YonhapNews, CJ Onstyle, a home shopping channel, notified blackouts for LG Hellovision on August 28, 2023.
As a result, viewers who subscribed to LG Hellovision in 23 regions, including Seoul (Yangcheon-gu, Eunpyeong-gu), Gyeonggi (Bucheon, Gimpo, Uijeongbu, Yangju, Dongducheon, Pocheon, Yeoncheon), Gangwon, Chungnam, and Gyeongbuk, will not be able to watch CJ Onstyle from October 2023.
CJ Onstyle explained that it expressed its intention to terminate the contract as the basic negotiation period for carriage fees ended. Previously, Lotte HomeShopping and Hyundai Home Shopping Network Corporation also notified some operators of blackouts due to the dispute over carriage fees.
The Korean home shopping industry and pay-TV operators have been in conflict over the issue of carriage fees for a long time. In Korea, home shopping channels pay a carriage fee to cableTV, which guarantees them channel placement. However, as the TV homeshopping business deteriorates, the burden of the fee has increased, leading to declarations of broadcasting blackout
According to the Korea TV Home Shopping Association, the size of carriage fees last year was 1.9065 trillion won(1.44B dollars), accounting for 65.7% of broadcasting revenue.
The performance of the home shopping industry is also worsening. In the case of Hyundai Home Shopping, its annual operating profit decreased by 200 billion won every year from 1.557 trillion won in 2020 to 259 billion won in the first half of 2023, a 58.4% decrease compared to the same period last year.
Lotte Home Shopping also suffered a 92.8% drop in operating profit to 20 billion won in the second quarter. CJ Onstyle also saw its annual operating profit drop from 1.798 trillion won in 2020 to 878 billion won last year.
CJ Onstyle told YonhapNews that under these circumstances, it paid 369.1 billion won in carriage fees to pay-TV operators last year, accounting for 74.9% of its broadcasting business sales.
But it's not just a matter of money.  "This is not a typical carriage dispute," Charter CEO Chris Winfrey said Friday on a call with investors.
Behind the dispute between them in the U.S. and Korea is a change in viewing habits.  According to Nielsen's survey(Gauge) in July 2023, streaming services exceeded cable TV and broadcast with 38.7% (which means watching four hours out of 10 hours a day).
Both are most valuable TV channels that are currently holding out on Pay TV platforms. If these two channels lose Pay TV, the traditional TV ecosystem will collapse rapidly. So the battle between Charter and Disney is a future war.  The business model for cable TV was fundamentally broken.
Read more
한국과 미국에서 시작된 방송의 미래 싸움(Fight Over the Future of TV in Korea and the U.S)
https://www.directmedialab.com/hanguggwa-migugeseo-beoleojineun-tvmirae-jeonjaeng/
Newsletter
디지털 시대, 새로운 정보를 받아보세요!