The Korea Cable TV Broadcasting Association (KCTA) hosted "the 2023 Cable TV Broadcasting Awards' on 4th Sep 2023 at the Westin Chosun Hotel Grand Ballroom in Seoul, Korea.
Cable TV Broadcasting Award is the only award ceremony for the Pay TV industry. KCTA is an organization that represents the interests of cable TV operators in South Korea.
It serves as a collective body for comprehensive cable broadcasting operators (SO) and content channel(PP) in the country.
The Cable TV Broadcasting Awards were  were given a total of 95 awards including commendations, Star Awards, and Contribution Awards,
The Cable TV Broadcasting Awards served as a comprehensive festival for paid broadcasting, encompassing SO (Cable TV Operators) and PP (Content Channel).  
KCTA hosted over 300 attendees, including award recipients, cable TV employees, and government officials, and live-streamed the event through the  local content streaming platform 'Gazi.'
https://www.gazi.net/page/main.php##
Chairman Lee Rae-Woon said, "This award ceremony holds great significance as we look back on the 30 years Since getting permission to cable TV from the Government. "we need to aim to open a new future together," he also said.  And "We  continue to drive the growth of the TV industry and consistently produce quality content."

Several distinguished individuals received Contribution Awards in commemoration of the 30th anniversary. former Minister of Public Information Oh In-hwan, former YTN CEO Baek In-ho, and the late former YonhapNewsAgency CEO Hyun So-hwan.
Yang Mi-kyung (actor), Oh Sang-jin (announcer), Lee Seung-yoon (Comedian), Yoon Taek (Comedian), Kwon Il-yong (celebrity), Seo Hye-jin (Producer), Na Su-ah (virtual human) Aichilin (singer), KCM(singer), Son Tae-jin, and Choi Jung-won(singer) were selected as the star awards. Stars' top celebration performances further shineed the 30th anniversary ceremony.
Channel awards for works went to categories like Drama, Entertainment, Culture & Arts, Documentary, Children, and Music.
That Award goes to ▲ Drama 'Our Blues' (tvN), ▲ Entertainment and Entertainment 'Brave Detectives 2 (E-Channel) ▲ Culture and Arts Education 'Hangul, K-Content Ride to the World' (Yonhap News TV), ▲ Documentary 'Before It's Too Late' (CNTV), ▲ Children's 'Tiger is out, uhung!' (Aniwon) and 'Music' Tone (Inett TV) were selected. "Our Blues" was well received for its high-quality work that achieved the 19th and final episodes of the previous channel at the same time.
'Brave Detectives 2' was loved for its storytelling that awakened the difficulties and preciousness of the field while listening to the experiences of detectives who solved the actual case.
Special PP awards( Award for Special Contributions to the Channel) went to various categories such as VOD, Global, New Media, and Channel.
PP Special Award ▲ VOD Award 'I am a natural person!"(MBN), ▲ Global Award 'Simply K-Pop CON-TOUR', ▲ New Media Award 'Pungkurt' (IHQ), ▲ Channel Award 'Childcare Broadcasting', ▲SO•PP Win-Win Cooperation Award 'SK Broadband, Living TV, Korea Vocational Broadcasting, Mountain TV, NewtroTV, WELIKE) won the award.
'Korea Childcare Broadcasting(육아방송)' is the only channel in Korea specializing in pregnancy, childbirth, and early childhood education, contributing to the beautiful childcare environment and the lead in a new family culture.
"Trip in Korea," co-produced by SO and Channel under the Cable Co-Production Cooperation Group, also drew a great response from viewers with the concept of "Introduction of 12 Travel Experts, Healing Travel to Find Me," which is differentiated from existing travel programs.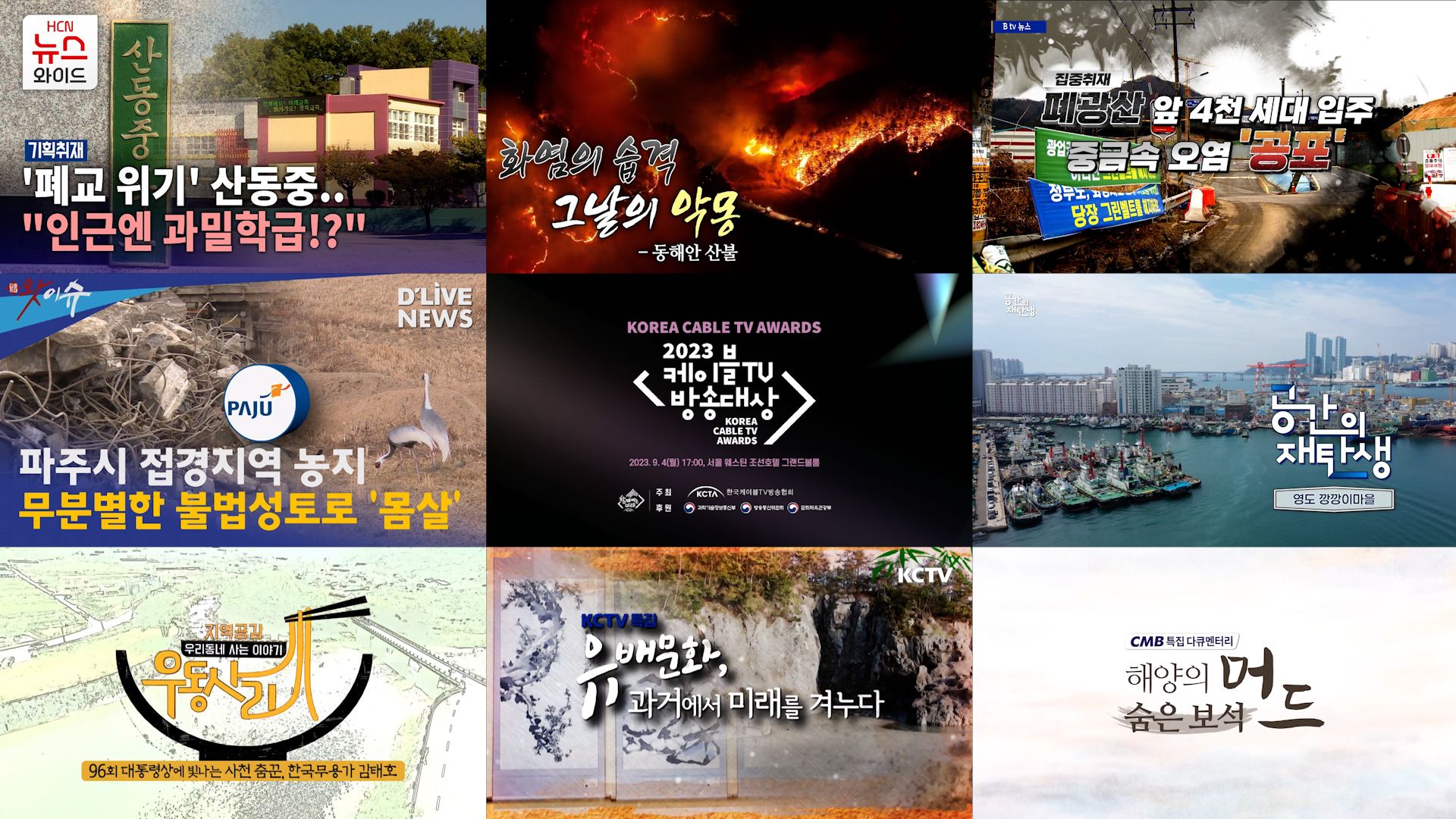 A total of eight programs  in three categories were honored with the SO Award.
The awards for local news converge
▲ 'Closed School Crisis Gumi Sandong Middle School' (HCN Saeronet Broadcasting), 'Gangwon and Uljin Forest Fire Warning' (LG HelloVision Disaster Special Coverage Team), 'Fear of heavy metal pollution'(SK Broadband Suwon Broadcasting), and 'Farmland··Indiscriminate illegal soil near Paju City' (Delive Gyeonggi Broadcasting).
The awards for regular program
▲ "Rebirth of Space (Rebirth of Daepyeong-dong, Yeongdo)" (SK Broadband Dongnam Broadcasting), and the story of living in our neighborhood "Udongsari" (Seogyeong Broadcasting). In the ▲ special field, "The Exodus Culture, Targeting the Future from the Past" (KCTV Gwangju Broadcasting) and "Hidden Jewel of the Sea Mud" (CMB Chungcheong Broadcasting) were awarded.
The SO Award is more meaningful to the winners as it is a work that has been re-examined and reached the finals among the works selected by the association for excellent regional channel programs.
The ▲ SO Special Award, which is given to organizations that have worked hard to develop the region and enhance its locality through
cooperation with cable TV, was honored by "Gimcheon-si, Gyeongsangbuk-do" and "Incheon Metropolitan City" for the regional partner award. Through active communication with HCN, Gimcheon-si expanded opportunities for local residents to enjoy professional sports.
Incheon Metropolitan City, along with SK Broadband, also successfully carried out local channel commerce broadcasting by helping merchants in traditional markets enter the online market.
한국케이블TV방송협회(회장 이래운, KCTA)가 2023년 9월 4일(월) 서울 웨스틴조선호텔 그랜드볼룸에서 '2023 케이블TV방송대상'을 개최하고 유공자 표창, 스타상, 공로상을 포함해 SO‧PP 작품상과 개인상 등 총 95점에 대한 시상을 진행했다.
케이블TV방송대상은 SO(종합유선방송사업자)와 PP(방송채널사용사업자)를 아우르는 유료방송 종합 축제의 장이자 콘텐츠 산업 발전을 위한 자리다. KCTA는 수상자, 케이블TV 임직원, 정부 관계자 등 300여 명이 참가했다.
행사는  지역콘텐츠 통합플랫폼 'Gazi'를 통해 중계됐다.
이래운 회장은 "이번 시상식은 케이블방송 허가 30년의 발자취를 되돌아보고 새로운 미래를 다 함께 열어가자는 의미가 크다"며 "앞으로도 방송산업 성장을 주도하고 질 좋은 콘텐츠를 지속 제작해, 유료방송 맏형의 역할을 톡톡히 하겠다"고 말했다.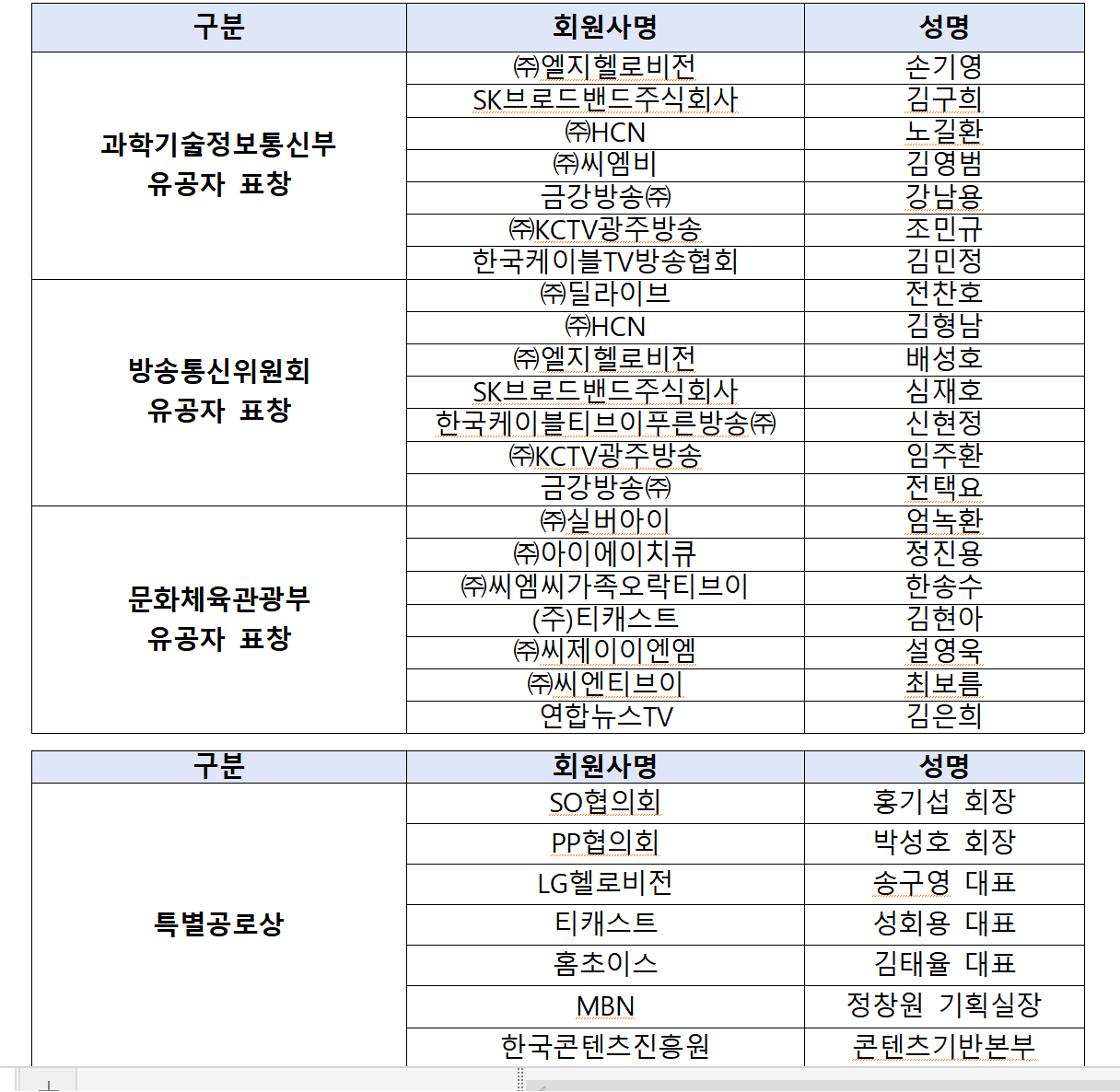 Newsletter
디지털 시대, 새로운 정보를 받아보세요!